Orbs Playing in the Snow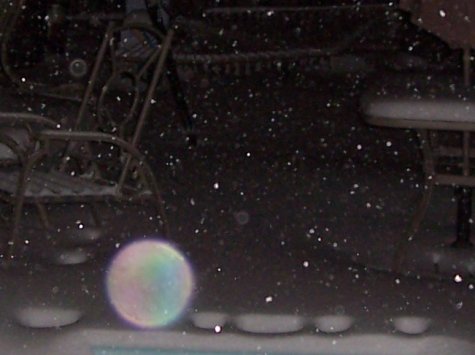 This photo was taken March 26, 2009 while it was snowing. Obviously many of the light specs are snowflakes reflecting the flash. However, there are also orbs in the photo. When I saw the luminescent one my heart filled with joy and love. Immediately I thought of Mother Mary. Could this be an angel of love? This image is cropped.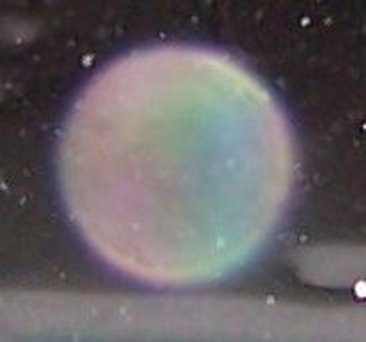 This image has been increased in size 200%.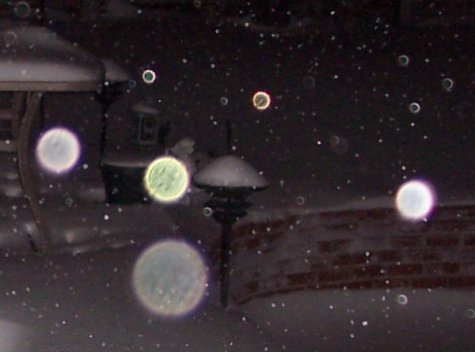 The above photograph was taken moments before the photo with the luminescent orb.
When you ask, what do your angels, guides and/or teachers tell you?

Mother Earth, in her opalescent, new, vibrant wardrobe. Mother Mary emerging. Around the same time, I saw all of Lake Geneva shining in opalescent color. I thought, new beginnings! A sign it is here, A New Earth! Other Orbs are surrounding her in lush protection. Especially I note the green orb as Archangel Raphael.
~Deborah Werner, Earth Wind and Flowers
Kate's entourage added:
Eternal hope of love is the essence of this luminescent orb. The angels of Mother Earth enfold all who open their hearts to love and abundance of all that is. The God within bursts forth as a circle of radiant love touching all - the love light of God shines eternally...
Fill out the form below to share with others what your angelic entourage tell you about the luminescent orb. I will add information to this page as it is given to me.