Communicating with Orbs - Guided Meditation MP3 Download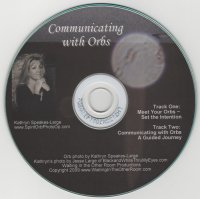 Who or What are the orbs of light in your photographs? Would you like to find out?

Communicating with Orbs is a guided journey/meditation CD developed as a tool for others to connect with the spirit emanations (orbs) in the photographs to discern who the spirit
orbs are and why they are showing up in the photos.

Kate used this same method to discover the orb in the cover photograph is of her deceased father, Big Jim. She also learned why. Please click here to learn why and view the photograph larger.

We are spirits experiencing a human existence together on Mother Earth at this time. We are each an integral part of the ascension of the collective consciousness. Enlightenment is bursting forth from the soil of our subconscious to our conscious state. As a result change is occurring – the planet is shifting… the veil is thinning...
Spirit is helping us to "see" that we are not alone. It is irresponsible of us to think that where we see nothing, there is nothing. Radio, TV, cell phone, microwave frequencies all exist, yet we do not see them. What else is around us that we do not see?
Orbs.
It is possible to communicate with these spirit emanations or orbs. Communicating with Orbs provides a method to connect and learn why and who they are.
Track One: Meet Your Orbs ~ Set the Intention
Learn more about orbs and set the intention to connect and communicate with the orbs in your Photographs.

Track Two: Communicating with Orbs A Guided Journey
Kate guides you to a sacred place to connect with the spirit orbs in your photograph, allows you time to ask questions, then returns you to the physical world.
Need a CD? Contact Kate!

MP3 Download: $11.11
Communicating with Orbs