Receive and Understand Messages from Your Angels Program (recorded LIVE webinar)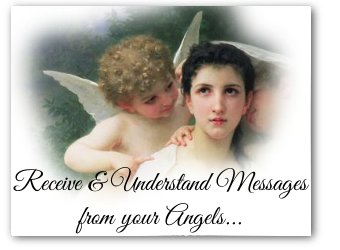 Do you want to receive and understand the messages
your angels have for you, but there seems to be a
short somewhere in your circuitry
because you feel like you just can't quite get there?
I used to feel like that too. Then I learned the tools I share with you in this program.
Learn the simple tools I use to speak with my angels and
implement them to receive messages and guidance from your angels!
You have the knowing in your heart that your angels are real and they have messages and tools to help you take control of the creation of your life. Do you know what those tools and messages are?
The physical world teaches us that we're separate, alone, and limited in what we can be, do and have. I believed this, too, and spent years bouncing around, feeling alone, stuck and separate from God and my angelic team.
Then I learned that we all have the ability to speak with and receive messages from the angelic realm of angels, guides, teachers and deceased loved ones.
I knew my angels were real and that they could help me,
but I struggled to "connect" with them - and identify their energy!
I tried meditating, but fell asleep.
I took my family to a Doreen Virtue workshop and watched quietly with a heavy heart as my husband and daughter (who didn't want to go) wrote out messages from their angels while I sat there, pen poised above the paper and got nothing. I read about how I needed to be a vegan to communicate with my angels and my heart sank – because a vegan diet simply doesn't work for me!

Then I learned the key to opening my heart to communicating with my angels and it was EASY! I learned how to distinguish between "them" (the angels) and my own mind chatter and... You can too!
Learn how to receive and understand messages and guidance from your angels
to create the life of peace, joy and love that you truly wish to live!
In this exciting, experiential course you will learn:

how to distinguish between your mind chatter and the whispers of your angels

how you receive your messages: seeing, hearing, knowing or in combination

how to recognize the energy of your angels

how fully supported you are on your life path

how limitless you are to be, have and do anything you desire...

This program includes a handout. All materials for this program - the audio, handout and bonuses are delivered in a zip file.

Receive Guidance and Wisdom from Your Angels
in the comfort of your own home!

BONUS!
Love Meditation - audio
Kate's favorite grounding method - audio
Quiet Your Mind - PDF

Receive & Understand Messages from Your Angels: $77.00