Meet Your Worry Angel Program (recorded LIVE webinar)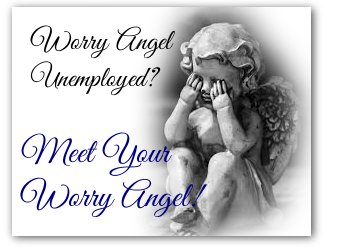 Did you know you have a Worry Angel?
Is he unemployed?
This program is a virtual, experiential class that illuminates the darkness of worry for what it is and gently reveals to you why you feel the need to worry about life situations and relationships and... release that need!
Join me for 60 exciting, enlightening minutes as I share with you how to disconnect from the energy of worry and take your power back!
When you release the need to worry...
you will create a higher outcome as your reality.

In this program you will:
~ learn how to release Your Human Need to Worry
~ learn the truth about worry energy that creates your every - day - experiences
~ discover what "responsible" really means
~ understand the difference between worrying and caring
~ disconnect from the energy of worry - even when you take it back and play with it
~ meet your Worry Angel and learn his name (if you've already met your Worry Angel, you will connect more deeply with him)
Just how awesome would it be to live your life Worry Free?
When you purchase this program you will receive:
* the Meet Your Worry Angel full program
* the guided journey to meet your Worry Angel meditation
* 3 Steps to BE-ing Worry Free 2 page report

Meet Your Worry Angel Program $77