Dr. Rita Louise, Ph.D.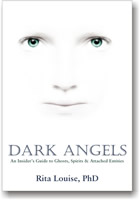 If you are a regular visitor to Soul Kisses, don't let the title Dark Angels put you off. Dr. Rita Louise, Ph.D. illuminates more of what is around us that we do not see. She approaches the subject with humor and an easy to read and understand style that helps one to dissipate fears of that which goes "bump" in the night. Knowledge in all situations is power!
Click the Barnes and Noble link below to order your copy!