Angels & Full Moon Energy Reveal: Your Pathway to Miracles
The movement of the planets affect the magnetic pull of Mother Earth --- and our bodies.

How AWESOME would it be to consistently walk
Your Miraculous Pathway?

Join me and I'll show you how!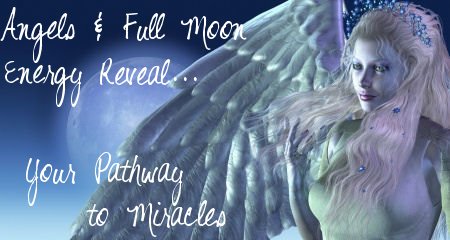 I invite you to join me for this exciting, magical time with the angels when they reveal your pathway to miracles during the powerful energy of the Full Moon!
During this extraordinary program, the angels and I share with you why - now more than ever - it is simple and easier to walk a pathway of miracles!
You'll understand why:

you no longer have to DIG through pain of the past to live a miraculous life


you feel stuck ---and--- why 'feeling stuck' is a good thing


you experience the "need" within you to hold on to limiting beliefs about your abilities


the dynamics of 'human struggle' gets in the way of your 'angelic flow'


you allow societal teachings to control and dictate the experiences of your life
In a beautiful, safe container of angelic love, we'll flow with the Full Moon energy -- fully supported by the Angelic Realm, Mother Earth and the Christ Conscious energy of ascension to learn how to use revelations that in the past made us feel uncomfortable.
Together we'll work with the angels to reveal your pathway
to the miracles that are your birthright to experience.
When you participate in this powerful program, you will:

access Miracle Consciousness

learn what do to when resistance blocks you

learn how to use 'feeling stuck' energy to propel you into the realm of miracles

employ the Power of Two exponentially as a group - even if you're listening to the recording!

learn how to process through the 'human struggle' and shift to 'angelic flow'

fearlessly take the reigns of your own life to experience your pathway of miracles
PLUS... you'll know HOW to play with the angels to flow in ease and grace with Full Moon energy every time there is a Full Moon!
Angels & Full Moon Energy Reveal: Your Pathway to Miracles
$77


Experiences of participants of the Angels & NEW Moon Energy Reveal Access to Your Prosperity Portal:
Participated in your New Moon ceremony... priceless... how do you do it... so natural and easy!!! Thank you, thank you, thank you!!!
Lots.of.love.
Tracy
I just participated in your New Moon Prosperity program. Thank you - it was, as all your programs are, just incredible - So Powerful and Uplifting!
Sending you unlimited love, light and gratitude,
Amy
The New Moon program connected me with my angels in a magnificent way and helped me get clarity on not only what I want, but most importantly, the action steps to create what I want!
In deepest gratitude,
Diana
I learned about you and your work through the Game of Life Workbook, which, as a huge Florence Scovel Shinn fan, I LOVED. In my "square" three of the four quadrants are great but my love life has never been happy other than the love of my family and friends. I listened to the recording of the program and worked with the new moon blueprint - and 3 remarkable things occurred:

1) I've been doing other work in the area of manifesting relationship (eg/ Ariel Ford's Soulmate Secret, Calling in the One) and all of these programs say "Believe you have the thing you want". But none of these things resonated to me; I just couldn't find an action step to take that really resonated or worked for me. Until I was working with your program and the blueprint. When going out, I felt a very strong message to dress as if I'm meeting the my love of my life so as to create the feeling of expectancy of having the man of my dreams in my life. This was the first thing that really seemed to work for me in terms of "creating the feeling" and I've tried plenty – for months!!!

2) I had a fire, from a candle, in my apartment 5 years ago. A few days after the fire occurred, I learned that a man who was the love of my life had met another woman. ...2 very painful events to recover from and they both scarred me badly. When I put on your recording, I felt a strong urge to get a candle and light it. I was terrified to do this, because it rekindled the pain of the fire and betrayal – like the woman who quailed when there was a ladder in her pathway (in the Game of Life). But I did it and the message seemed to be, "OK – you were badly hurt before from this. You're afraid to do it again. But have the courage to do it again." – which seemed to relate to my love life every bit as much as the fire.

3) One of the chapters of Ariel's Soulmate Secret talks about making a list of qualities you want in your mate and releasing those to the universe. I have made these lists in the past and I'm very clear on what I want in a man. Ariel suggests that people burn the list afterwards to symbolically release it and send it up to God to deliver. But because of my fire, I'd never do that. She said that as an alternative, you could tie the list to a red helium balloon and release it. This is what I'd been thinking about before listening to your recorded program - where I could get a red balloon and whether it would be ok to release it in the park? After listening to your recording and visualizing being in a happy relationship, I opened my eyes and across the street were two men carrying about 100 red helium balloons in nets walking right in front of my window!! I realized that this was what Florence would call, "an unmistakable sign." These balloons were meant to release my wishes to the universe and I didn't have to go and get one and send it up in the park. It was done.

Two days later, at a business reception, I met the first man who has interested me in over a year. I'm not going to say that he's "the divine selection," but I was amazed at how my energy is shifting and I'm already seeing amazing results from the program.

I clearly have access to my prosperity portal for love, now!

Thank you, Kate!

Much love,
BB
This program, along with the "Angels & New Moon Energy Reveal: Access to Your Prosperity Portal" complete your power over the New and Full Moon cycles. With this information you miraculously open the way to live your biggest, most magnificent life! Did you miss the New Moon event? Click here to get yours and be READY to work with the Powerful energies of the next New Moon!