Jesus of the Sacred Heart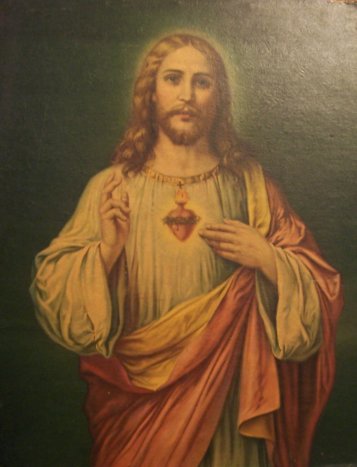 Jesse's Tattoo
I went to the top and asked Jesus to watch over my daughter, Jesse, while she wasn't living with me. He assured me He would be with her always in all ways - not to worry. He was true to His word!
While she was away she decided to get a tattoo that she designed herself. The tattoo is of a heart surrounded by thorns with flames coming from the top of it, with three crosses in the flames sitting on the heart. The tattoo represents to her my dad, Big Jim's heart, the thorns are for the doctors not being able to save him, one cross is for him, one for Jesse and one for life - the flames are for renewal.

A few weeks after the tattoo was permanently scrolled to her arm, my grandmother mailed to me a picture of Jesus that belonged to my great grandmother. Jesse had never seen the picture - it arrived while she was visiting. I opened it and put it on my desk. Jesse went upstairs to use my computer and just as quickly returned to the top of the stairs and asked me to come to my office asap - she was a little more than freaked out.
This particular picture of Jesus is often called Jesus of the Sacred Heart. The elements of Jesse's tattoo were the same as the images on the chest of Jesus: a single heart, thorns, flames and cross.
As she stood there in awe, I remembered what Jesus had told me, "not to worry, that He would be with her always in all ways..." I told her, "looks like Jesus helped you put that tattoo together. He is always with you!"

| | |
| --- | --- |
| Jesse's Tattoo | |
| | Close up of the heart on Jesus' chest. |