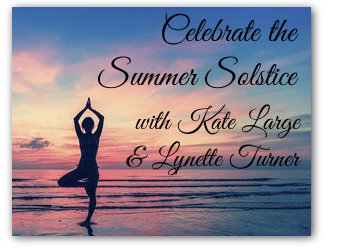 Experience a Love Ceremony unlike any other!!
In medieval times people believed herbs and flowers picked during summer solstice carried healing energy above and beyond normal healing properties.
We believe Love has the power to heal everything, e.g. the mother earth, relationships, life situations, even the human body.
We believe living at a vibration of love is why we are here on Mother Earth today. It is our mission to shift from the illusion of fear of the physical world to the higher vibration of love to create our version of Heaven on Earth as our reality.

Are you ready to step
into a higher level of existence?
In this experiential Love Ceremony Kate and Lynette will hold the safe space for healing at a deep soul level for you and for Mother Earth.
Together we will:

expand the power of two through our group connection



connect as one all across the planet magnifying the love connection



hold the safe space sending healing love to Mother Earth touching her core



reconnect with the essence of who you are - one with Mother Earth - one with the Creator of All That Is...
Celebrate a time of new beginnings with this exciting program!
Now is the perfect time to clean house of what no longer serves you. By releasing that which has out served its purpose you will open the way for your highest good to be revealed to you.
You will:



clean house and release what no longer serves you at a soul level



open your heart to the love that is your essence to stand in your personal power

learn 5 steps to stress relief



learn how to work with your dream guides to resolve issues and make decisions

send love to Mother Earth as a group to help relieve her stress



open the way for your highest good to be revealed to you during all times of Mercury Retrograde! (the original live program was presented during a Summer Solstice in Mercury Retrograde) The 2015 Summer Solstice is in the post shadow of Mercury Retrograde, so all information is valuable.
Summer Solstice Love Ceremony - $77.00
with Lynette Turner & Kate Large