Soul Kisses Abundance Bag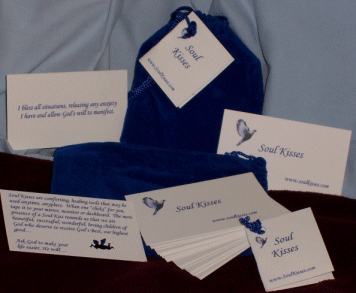 The Abundance Bag is designed to provide you with the comforting, healing touch of a Soul Kiss anytime, anyplace. When one "clicks" for you, tape it to your mirror, computer monitor, dashboard, fridge - anyplace. You can even carry it in your pocket and give it to a stranger as an act of kindness!
The mere presence of a Soul Kiss reminds us that we are beautiful, successful, wonderful, loving children of God who deserve to receive God's Best, our highest good...
The Soul Kisses Abundance Bag holds thirty-one 2" x 3 1/2" cards. Thirty cards have Soul Kisses on each one and one card shares ideas of how to use your bag of blessings. Click on the picture above to see a larger image.
Soul Kisses uses PayPal secure payment for all transactions. To order your Soul Kisses Abundance Bag, click the Add to Cart button. You will be transferred to the secure PayPal site. After your transaction, you will be returned to the Soul Kisses website.
Thank you for your order!